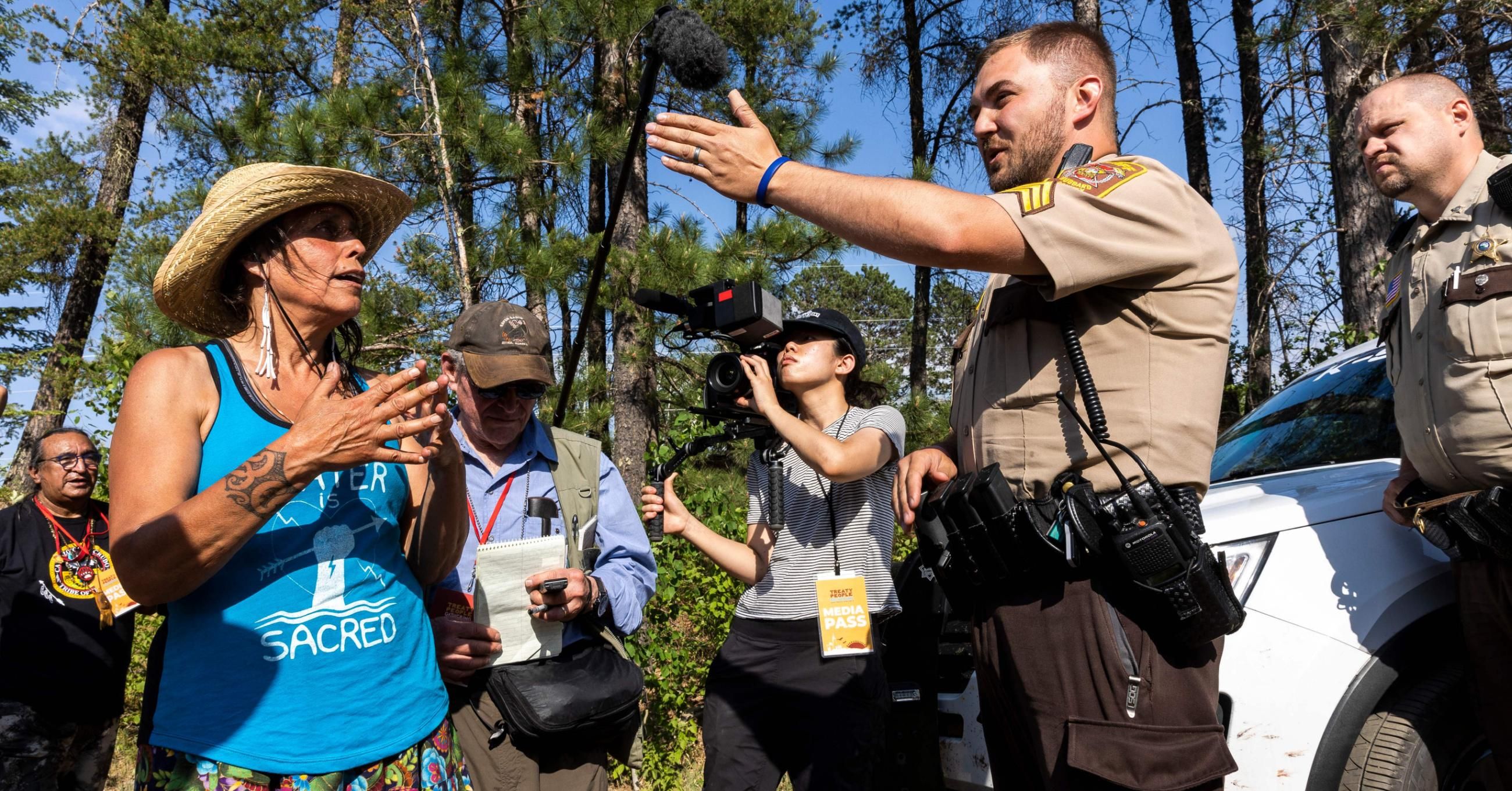 As protesters face crime, Minneapolis City Council joins opposition at Line 3
[ad_1]

Although run by Indigenous people Actions Against Line 3 continued in Minnesota on Friday even as some peaceful protesters now face felony charges, Minneapolis City Council unanimously passed a resolution opposing the oil sands pipeline from Enbridge.
"We are listening to the Indigenous community in their demand to stop this pipeline, a project that violates the sovereignty of tribal nations and endangers the Minneapolis drinking water source."
—Alondra Cano, Minneapolis City Council Member
The council's 13-0 vote in favor of resolution (pdf) comes as indigenous and climate justice groups opposed to Line 3 – the Canadian company's plan to replace an old pipeline with a bigger one – challenge it on the ground and in court.
The resolution, which notes that Minneapolis declared a climate emergency in December 2019, clearly states the city's opposition to line 3 and "calls on all elected leaders with power to stop its construction to do so immediately."
The council "further calls on the mayor and chief of police to continue to prevent Minneapolis police from participating in the Northern Lights task force," a law enforcement coalition formed in response to protests against the pipeline .
In a statement Friday, members of the Minneapolis city council highlighted the expected impact of Line 3 on indigenous communities, drinking water and the global climate.
"We are living a climate crisis in real time," said Jeremy Schroeder, board member and co-author of the resolution. "We know Line 3 emissions will exacerbate the climate crisis, including in Minneapolis."
As another Council member, Cam Gordon, put it: "For our civilization to survive, we have to leave fossil fuels in the ground. This is especially true for particularly dirty, carbon-intensive fossil fuels like the tar sands.
Council member Alondra Cano said that "we are listening to the indigenous community in their demand to stop this pipeline, a project that violates the sovereignty of tribal nations and endangers the source of drinking water in Minneapolis."
Winona LaDuke, executive director and co-founder of Indigenous environmental justice group Honor the Earth, expressed gratitude for the council's support while also targeting Minnesota Gov. Tim Walz, a Democrat.
"This water that we protect serves the people of your city," LaDuke said of Minneapolis. "Together, we must stop the last oil sands pipeline and help the Walz administration move towards a just transition that will benefit the entire state and help strengthen Indigenous communities."
"Line 3 violates the rights of indigenous peoples and is completely out of step with Minnesota's climate goals, and we are happy to see our local leaders stand with frontline communities to oppose this disastrous project," said Margaret Levin, director of the Sierra Club North Star Chapter. .
MN350 communications director Brett Benson called the council's action "further evidence of growing opposition to Line 3."
"The pipeline turns out to be a bad deal for the Minnesotans again and again," he added. "Not only does this trample on tribal sovereignty and dump hundreds of millions of tons of climate pollution into the atmosphere, it also costs Minnesota taxpayers millions of dollars in bailouts from local governments. It's time to end this fiasco.
While state and federal figures show no sign that they intend to obstruct the project, some opponents of Line 3 who engaged in peaceful civil disobedience on Thursday to protest the construction of the pipeline in the territory of the Anishinaabe Treaty now face felony charges.
"This pipeline is a violent assault on indigenous peoples and their rights," Rainforest Action Network (RAN) executive director Ginger Cassady said before her arrest. "Line 3 would violate the treaty rights of the Anishinaabe peoples and other nations."
"This reckless pipeline also flies in the face of logic and science," added Cassady, who is now among those facing felony charges. "It will haul nearly a million barrels a day of the world's dirtiest fossil fuels, heavy oil from the tar sands, through unspoiled wetlands, through the sources of the Mississippi River."
RAN member Laurel Sutherlin, who also faces charges for protesting peacefully, said "the world needs to pay attention to what's going on here in Minnesota right now."
"This is urgent. This is why we are putting our bodies at risk to support local leaders to stop construction," she continued.
Calling on the big banks and insurers supporting Line 3 and other dirty energy projects, Sutherlin said that "their support for this project means supporting the violent and muscular tactics of law enforcement. They are directly complicit in physical abuse, in the violation of rights. , and the climate catastrophe that will last for generations. "
Tara Houska, founder of the Giniw collective and one of the leaders of the indigenous movement against Line 3, noted the deadly heat wave that hit the Pacific Northwest, which experts have linked to the climate emergency in human origin.
"More than 13 people recently died from the extreme heat in Seattle, while 60 more marched in Oregon," Houska said. "The coast is burning. Here in Minnesota, rivers and lakes are hit by drought as Enbridge sucks water for drilling mud from Line 3 from exposed river banks. This is utter madness."
"Meanwhile, the word in DC is 'sound climate policy', but line 3 is being built without a federal environmental impact statement. Line 3 is criminal," she charged. "Land defenders risk everything, chaining our bodies to machines that seem to have no end in sight. We need leadership that does not compromise the water we have left. We need the environmental movement to grow. engages and defends the sacred in more than words. Stop line 3. "
The Indigenous Environmental Network on Wednesday launched a protest outside the White House calling on President Joe Biden and congressional leaders to "protect people, not polluters," including through executive action to stop Line 3 and other fossil fuel projects.
The action – which also promoted climate justice provisions for a federal infrastructure package – came after the Biden administration filed a legal brief last week in support of Line 3's approval by the federal government in 2020 under former President Donald Trump.
In response to this movement, as Common dreams Benjamin Goloff, an activist with the Center for Biological Diversity, reported, accused Biden of "siding with a handful of corrupt corporate elites to honor treaty rights, climate, water and land. 'future of life on Earth'.


[ad_2]