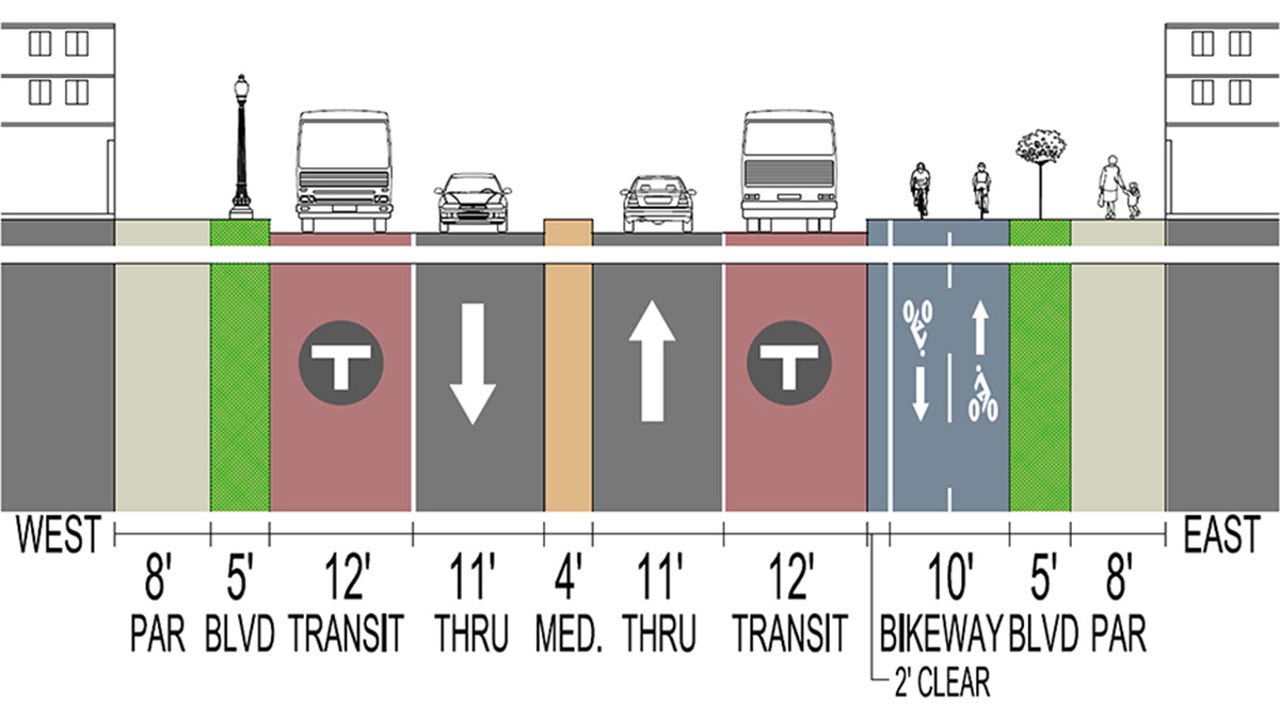 Minneapolis Mayor Frey vetoes overhaul of Hennepin Avenue and 24-hour bus lanes
MINNEAPOLIS (FOX 9) – After a battle between council members and businesses over a redesign of Hennepin Avenue in Minneapolis to add dedicated bike and 24-hour bus lanes was approved by the Minneapolis City Council, it now has is vetoed.
Minneapolis Mayor Jacob Frey sent a letter to council members on Friday, informing them that he had vetoed both the development of the proposed Hennepin Ave Street reconstruction (between Douglas Ave and W Lake St.) and a resolution directing the City Engineer to establish parking restrictions. on Hennepin Ave S between Douglas Ave and W Lake St as per plan approved by City Council.
"I continue to support the layout recommended by Public Works, which has not been changed since its introduction in late 2021. The proposed layout includes transit priority lanes, an off-street bike path and significant improvements in safety – that effectively redefine the way we use public space to improve the lives of the people of Minneapolis," Frey said in the letter. "I fully support a dedicated bus lane with specified hours of operation to reduce congestion and vehicle miles travelled. However, I cannot support maintaining dedicated bus lanes 24 hours a day when buses are not running. 24 hours a day. This would run counter to the countless small businesses, many of which belong to BIPOC, who have compromised both the presence of a protected cycle path and the priority of bus lanes to the detriment from substantial parking numbers, ranging from the global pandemic to civil unrest in 2020, to rising inflation and labor shortages, let's at least show a willingness to work with them.
The redesign and reconstruction of one of the city's busiest streets has been underway for some time. Public Works previously released its final recommendation which proposed reducing vehicle-only lanes to two, adding 24/7 transit lanes and a two-way protected bike lane between Lake and Franklin.
"While well intentioned, I fear we will end up with traffic jams. All it will take is one person to park in there. [dedicated bus] path for this to impact operations and leave buses on standby," Council Member and Public Works Committee Chairman Andrew Johnson said at a June 9 meeting. – and we don't really have an example of this working successfully yet. The idea is that in a few years we'll find out, but I think it's backwards…I feel like it's a setup where people could be promised one thing and in get another.
If approved as is, the design would leave behind around 20 parking spaces, which businesses along the street have fought for.
"We can meet our shared climate and transportation goals while preserving a reasonable number of parking spaces for community businesses by enabling a flexible operational plan capable of providing public transportation service up to 24 hours a day. 24," Frey said in the letter. "I urge you to work with my administration and the Public Works leadership team to do just that. This plan must be guided by parameters such as transit delay, speed and reliability; corridor operations ; and safety."