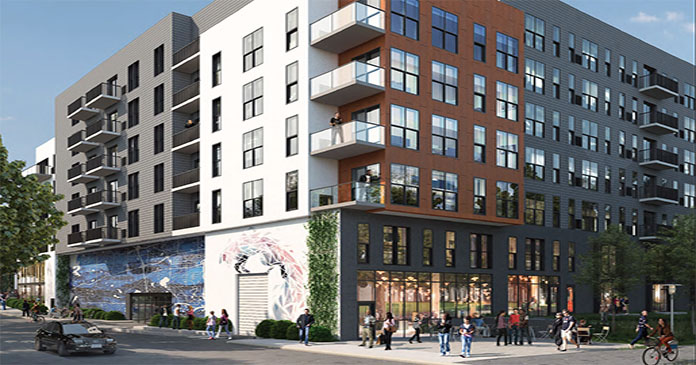 Secured debt and equity capitalization for 275 multi-unit housing development in Minneapolis-St. Paul
JLL Capital Markets announced that it has arranged construction financing and raised equity for the development of Minnetonka Station, a 275-unit, transit-focused Class A multi-residential development in Minnetonka, Minnesota.
JLL represented Linden Street Investments in arranging a joint venture with Virtus Real Estate Capital, as well as a four-year variable rate construction loan with Bank OZK. Stevens Construction Corp. is the general contractor.
Minnetonka Station represents the Linden Street entrance to the Minneapolis-St. Paul MSA, after several successful multi-unit and mixed-use developments throughout the Midwest. Linden Street is run by Scott Richardson, Director. Stevens Construction Corp brings decades of general contracting and development experience in Wisconsin and Minnesota to the transaction, while Virtus Real Estate Capital is an experienced investor in the Minnetonka submarket through his property of the nearby RIZE at Opus Park.
"Linden Street has had success expanding into the East Coast and Midwest smart growth markets. We have spent two years working with City of Minnetonka staff to entitle a project that is sustainable, visually appealing and will bring much needed housing to the western suburbs of Minneapolis," said Richardson.
Located at 10400 Bren Road. To the east, the development is located in the Opus Park neighborhood of Minnetonka, eight miles southwest of Minneapolis-St. Paul and half a mile from Edina. Located in the Opus Business Park, the project will provide residents with easy access to over 4.2 million square feet of retail space and over 14,000 jobs in the immediate area. The project is adjacent to the Southwest Light Rail Transit Green Line Extension, a major light rail extension that will allow residents of Minnetonka Station to travel by train to downtown Minneapolis in just 22 minutes.
The JLL Capital Markets team was led by John Marshall, Matt Benson, Josh Talberg and Kellan Liem. The Minneapolis multi-family investment sales team, including Dan Linnell, Mox Gunderson and Adam Haydon, provided local market support.
"Linden Street was able to create a win-win solution with the City of Minnetonka and create a project that combines market rate and affordable units, while providing sustainable, transit-oriented housing," Marshall said. "This vision and their track record has enabled JLL to secure several attractive offers from institutional joint venture partners and national construction lenders to capitalize the total cost of the project. We look forward to Linden Street's continued growth and a successful project with Virtus and Bank OZK.
JLL Capital Markets is a global, full-service provider of capital solutions for property investors and occupiers. The firm's in-depth knowledge of the local market and global investors provides the best solutions for clients, whether it is investment and sales advisory, debt advisory, equity advisory or recapitalization. The firm has more than 3,000 capital markets specialists worldwide with offices in nearly 50 countries.